If you wish to bring the beauty of the North Shore to your special day I would love to help you create a ceremony that reflects your relationship with the peace and serenity of nature.
As an ordained interfaith minister and spiritual counselor, I have been officiating weddings for over 20 years. I collaborate with each couple to create a personalized ceremony, which truly expresses your shared spirituality, and celebrates your relationship with those you love.
Whether you choose to hold your wedding at one of the resorts along the lake or within a natural setting that is special to you, living in Grand Marais I'm close at hand. I have officiated all types of ceremonies, from traditional to hand-fasting, and each wedding is as unique as each relationship.
Being a hopeless romantic, weddings have always been my favorite life event and having the privilege to officiate such a joyous occasion warms my heart!
I look forward to working with you to make the wedding of your dreams come true.

Reviews for Marina Telfer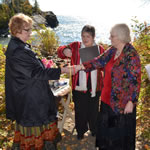 Marina Telfer officiated our Fall wedding in 2013 at one of our favorite spots on the shore of Lake Superior. We knew that we wanted a Handfasting ritual with the elements of nature as an integral part of our ceremony. Marina listened to our wishes and helped bring in all of the components we desired. From helping to prepare the site, to performing the perfect ceremony, she was at our side offering her calming presence. Thank you, Marina, for a day we will cherish forever.
Julie and Sue
---
From our first meeting with Marina, my husband Dwight and I knew we made the right choice by asking Marina to officiate our wedding. She put us at ease and helped guide us through the process from start to finish.
She had great suggestions along the way to help us make the ceremony our own and uniquely us. I also really appreciated Marina keeping us on track, I'm a procrastinator by nature and Marina did a great job of helping us ensure we had all of the details taken care of well in advance of our big day.
On the day of, Marina was a calming force that helped ensure the ceremony went off without a hitch. Although the day was a blur, I specifically remember Marina's calm and confident voice during the ceremony, her words – beautiful, spoken with love and sincerity.
Thanks, Marina for helping make our big day something we will always remember.
Than you!
Sarah and Dwight's Wedding at Bluefin Bay
---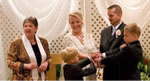 Marina Telfer officiated our wedding in 2008. She was an integral part of the ceremony's success from day 1 of the planning. We were merging a blended family and wanted to do things a bit nontraditionally.
Marina was full of advice and ideas. She helped us to brainstorm just the perfect ceremony by showing us different resources including poetry, ceremony ideas, and sample vows. She was a very good listener and heard our concerns and helped us both to alleviate our worries (by reminding us that this was our day and our expression of our love, not the traditions in which we were raised) and to find just the perfect outlet and representation of our beliefs.
My favorite part of the ceremony was a beautiful ceremony that Marina suggested that involved binding of the four of us with a prayer braid. We braided the cord during a family event prior to the wedding while loved ones gave their prayers and hopes for us. Then, at the ceremony, our two sons, my husband and I clasped our hands together and Marina bound the cord around our hands. She then pronounced us a family and asked for the support of all in attendance in our future. We walked back down the aisle as a foursome.
The ceremony changed a chord in our family. My husband and I felt that afterward there was a new, tangible bond between the four of us. We were reminded of the power of a genuine ceremony and the love that was publicly shared that day. It was truly a life- changing event. Thanks, Marina, for making this day so very special!
Michelle and Zachary
---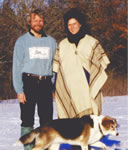 My husband John and I had the great delight of having Marina Telfer work with us on our ceremonies. We have now been married for 16 years!
One of the special things about working with Marina was that she was so devoted to helping us create a ceremony that suited our spirituality. Since we were not connected to a specific religion this required some creativity and flexibility. Not only that, but we wanted to have two different ceremonies:
one for our actual marriage, which was only two guests, and the other for a large community, which was really a blessing of our vows and our rings.
Marina listened so deeply to our desires. She is very intuitive and really understood the essence of what we were hoping for. Not only that, but she took time to look for things to contribute to our ceremony. She would offer ideas, but she was really unattached to us using them. One of the things she found for us that we did use (a special opening song of gratitude) is a song that has remained with me and my husband and our children ever since. I will always remember the moment it was first sung in the large circle of our community wedding.
Marina is a gifted facilitator. She guided us, and she followed us as well. Working with her was a pleasure for me and for my husband. The whole process was empowering to each of us, and it supported our deepening together. We want to renew our vows when we reach our 25th anniversary, and I envision that we will contact Marina to be with us again!
John and Leah
---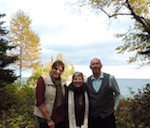 When thinking about our marriage, we knew we didn't want any big wedding. Having no idea what we wanted our ceremony to look like, we turned to the internet for ideas and someone to officiate. We found this site and, after reading reviews about Marina, we were intrigued and decided to call. From our first conversation it became apparent that all the reviews were accurate and we decided we wanted Marina to help facilitate our very special day. Marina was warm, caring, helpful and truly has a passion for what she does. While our ceremony was somewhat simple(by choice), Marina helped with all details and went above and beyond to make sure our day was special and all about us. She asked all the right questions, offered guidance, ideas and support. Marina even recommended lodging, lined up witnesses and went out on her own time to find an absolutely ideal location for our ceremony. 
There are most likely many people whom can arrange "details". Marina's true value, talent and gift is in her warm caring soul, her calm reassuring manner and her steadfast faith in people and God. We can think of no one more perfect to have helped us celebrate our union!
Thank you again Marina!!
Julie and Rick
---