I am a nondenominational & interfaith minister who will assist you in creating the ceremony that best fits your needs. I have been ordained through the Universal Life Church since 1996. I have performed many weddings, church services, funerals and baptisms through out the years. I love being a part of peoples lives at these important times.
Weddings: Your wedding is an experience that you will cherish, remember and treasure the rest of your life. I have had the privilege to learn and perform ceremonies from many different cultures. I have been a spiritual counselor and officiant for over 17 years and I love my job. The joining of couples and witnessing of a loving commitment is a blessing for them, their families and communities. It is my privilege to be a part of such a joyful time. Whether you wish a simple, meaningful ceremony or you wish to tailor a deep felt personal commitment ceremony, I will help and guide you in creating the perfect wedding for your needs.
This is a day of dreams for you and I would be honored to help and prepare a ceremony that captures the essence of your dream. Whether you want a church ceremony, a spiritual ceremony indoors or out or a simple wedding declaration, I would be happy to help guide and perform the your ceremony for you. Whether it is traditional or tailored to your design, I can help with designing just the right wedding for you. I have had the privilege to perform hundreds of weddings and have often then gone on to bless the couples new born children in their baby blessing ceremonies. Truly, I have the best job there is.
Baptism or Christenings & baby blessing ceremonies: There are many different christening ceremonies but they all honor the child as a powerful being of love. It is a time to affirm the things that you want for your child. This is a ceremony that we can create together to pass on from parents, family and community the hopes, dreams and commitments to your child. I have practiced many traditional and unique ceremonies to bless children and would help create a ceremony that fits with your traditions and beliefs.
Funerals or Memorials: In this tender time of one's life I can create a ceremony that expresses respect, dignity and gratitude for your loved one. A final blessing, favorite memories, music or prayers can be included in this important ceremony. I also go to the grave site for an internment ceremony.

Reviews for Nancy Lindgren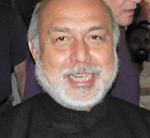 As a Catholic priest I follow a set pattern for weddings which most Catholics would recognize. It comes from a long tradition of prayers and vows.
Having been present at a wedding conducted by Nancy Lindgren today, I was compelled to offer a favorable testimonial.
The service, held in the patio of a restaurant, was reverent, personal, tinged with just the right amount of humor, and certainly nuptial, the vows were prominent in the service.
The language used by Nancy Lindgren is polished but not pedantic; she touches emotional spaces with her prose, and gently guides the participants toward a true celebration of the union taking place.
As a Catholic priest, I was inspired and challenged to measure up to her example.

Fr. Arthur Carrillo, C.P.
---
"Nancy Lindgren did a phenomenal job officiating our wedding ceremony. I loved how she listened to both of us and came up with such unique ideas that truly depicted who we are individually and as a couple. I appreciated her patience as we continually added, changed, and tweaked the ceremony. I was impressed with her creativity and way with words. She has a wonderful gift. Our wedding was initially scheduled on the day of the 5th largest blizzard in Minnesota. We decided to reschedule for the following day and Nancy was incredibly accommodating and comforting. On the day of our wedding, I was fairly calm and I know a large part of that was due to her tranquil presence. I knew that she had everything under control. Guests after the ceremony said it was one of the most beautiful and touching that they had seen. She helped us create a ceremony truly from the heart. Both my husband and I recommend Nancy for any ceremony. She is intuitive, caring, patient, creative, professional, and very versed in the human spirit. Thank you Nancy for making this day one we will remember and cherish forever. We feel so incredibly blessed to have had you be a part of our special day."
Monica and Brad, Golden Valley, MN
---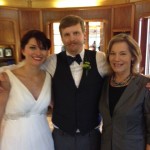 Nancy,
We just wanted to say again thank you so much for everything.  We are so grateful we chose you to be our officient.  Your guidance was amazing and you certainly kept us (me) calm.
Megan and Jared
---
"Thank you so much for officiating at our wedding—your kind words helped make our day very memorable. We are glad that you could play such a special part in making our dream come true."
Kate and John
---
"We wanted to thank you again for the beautiful ceremony and helping to make our wedding special & unique. You provided exactly what we wanted for our vows and we wish to say thanks for your meaningful and inspiring messages."
Mona and Ryan
---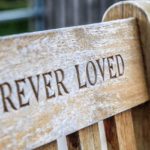 Life Celebration
We were so grateful to have found Nancy and to learn of her services.  It was during a difficult time of wanting to plan a most special and personal celebration of life and we had not been sure where to turn.  Nancy met with us and we were immediately reassured we had made the right choice.  Her kindness and warmth helped guide us through our process.  Her patience and understanding was very much appreciated as our minds went in so many different directions.  And on the day of the celebration, her delivery of our words, prayers and readings made it the meaningful and personal service we had planned. Our guests felt her warmth and sincerity even though she had only known us for a short time.
Thanks again Nancy for all of your help through this journey.
Linda (David Feltl)
---
"Thank you so much for being able to preside over our wedding on such short notice. The ceremony you put together was perfect and the words added so much to our evening."
Jennifer and Gerald
---
"We wanted to thank you for what a wonderful job you did at our wedding. We got so many nice comments about the ceremony and it truly made it very special for us."
Patrick and Amy
---
"Thank you for helping us to make our day so incredibly special. Everyone in attendance could feel the blessed energy that we were sharing with them. It couldn't have been more perfect! "
Jane and Richard
---
"Thank you for creating such a personal & lovely ceremony for us! We were honored to have you officiate."
Jeremy and Christine
---
Memorial Service
"Thank you so much for your kindness and thoughtfulness on this special day. Thank you for your healing and support during the cancer journey over the last two years. The personalized memorial was heartfelt and meaningful to all of us.
We can't say Thank you enough for the wonderful caring service. It was perfect—you helped us give the day meaning and respect we were feeling. What a peaceful service."
Dar and Gary
---
Baby Blessing
"Thank you for doing the baby blessing for our son. It was a very special & personal ceremony. It was nice to have you share another joyful occasion."
Doug and Jennifer
---
Baby Blessing
"The baby blessing ceremony was beautiful. Thank you for such sweet words to bless our daughter!"
---