I have been honored to officiate at numerous weddings and other ceremonies for over 20 years. As an ordained minister, former family social worker, and spiritual coach, I believe I bring a unique perspective plus new and timeless ideas into the entire process.
I see each ceremony as a beautiful reflection of the couple's wishes and desires and of their own special connection. I feel privileged to participate in bringing people together in ways that highlight not only the legal, but also the spiritual commitment they are making to each other.
Contributing positive energy and warmth, a sense of humor and laughter, excitement and enthusiasm to such a special day is always my intention and goal. Inspirational and creative ceremonies will affect not only the couple, but the extended family, and the guests as well.
I officiate at all types of ceremonies – traditional or contemporary, spiritual or secular, legal or symbolic – for couples desiring to make an initial commitment or renewal of vows to each other.

"With less than a month before the wedding, we were still looking for a wedding officiant when we found Kate! She was very helpful in getting us started thinking about what we wanted in a ceremony, and gave us their wedding ceremony ebook to look over until we could meet. We loved her as soon as we met her! She was very nice and professional, and made us feel at ease right away. We went over the whole ceremony. In the few weeks before the wedding she was very quick at answering any of the questions that we had. Kate did everything she could to make our ceremony memorable, special and personal! Everyone still talks about how wonderful the ceremony was. We are so happy we went with Kate, and we highly recommend her! Thank you so much Kate for making our wedding day special!"
Anna
---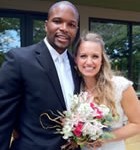 Thank you Kate for all of your help! We really appreciated having you as part of our special day!"
Shanelle and Chris
---
"We chose Rev. Kate Gregory for our service and she was really sweet. Met her many months before the wedding and decided to hire her. They have a huge e-book full of wedding ceremony readings, etc. so we were able to create our own ceremony. Kate helped us pull together the pieces and the ceremony was beautiful. Highly recommend their service!"
Anne
---
Kate, Thank you so much for the great job! Everyone is still talking about what a lovely ceremony it was! We are sooo happy we chose you as our officiant! Warm regards and love,
Jonas and Megan, Fridley, MN
---
Thanks so much for all the work you did as a part of our wedding – we couldn't have asked for a more meaningful ceremony or a better officiant!  Couldn't have done it without you! Love,
Jen and Ben, Washington, DC
---
Just a note to thank you for the beautiful wedding service that you helped Jen & Ben to create.  We have received so many compliments about the ceremony.  We (as well as many of our guests) thought it was the most meaningful wedding service we had ever attended.  There was no "going through the motion" in this service.   Everything was truly from the heart – our guests loved hearing about Jen & Ben's love story and the many references to family were an inspiration to all that attended the ceremony. The wedding service truly captured their personalities – they are both all about love and laughter!  Thank you for providing them with the guidance to create their wedding vows – they were serious but at the very same time there was plenty of humor. It was a pleasure to meet and visit with you.   Thank you for what you do for couples in preparation for marriage!  We are so happy that you were part of this incredible day for all of us. With fond regards,
Diane and Dan – Parents of the Bride
---
Kate, you have a true gift; thank you for your uniquely memorable contributions to our wedding day. With grace and elegance, you presented our commitment to each other to our family and friends. Our guests represented a wide range of religious and spiritual backgrounds. All in attendance felt at ease with your respectful proceedings, We endorse your services to any couple seeking a wedding officiant. Thank you so very much,
Kristina and Eric, Minneapolis, MN
---
Thank you so much for making our wedding the most special possible.  We truly enjoyed having you share in our day. All our love and thanks,
Bree and Shane, Minneapolis, MN
---
Thank you so much for being a part of our special night!  We thought the ceremony was great and appreciate all of your help.
Vickie and Nate, Minneapolis, MN
---
Hi Kate, Thanks for making our ceremony planning so fun and easy!  We have really enjoyed working with you!
Josh and Jenna, Denver, CO
---
I just want to thank you for all your efforts to make Chris and Meryl's wedding service so meaningful and true to their thoughts and wishes.  It was a wonderful celebration of their love and devotion to one another. It was a very emotional and spiritually uplifting morning for both their families. Thank you for making it all come together so beautifully!
Darcy, Mother of the Bride, Eden Prairie, MN
---
Our wedding was so very wonderful and we would like to Thank You for your part in making it so. We both appreciated the help and guidance you provided, your enthusiasm, and the wonderful way in which you conveyed our story.   Your calm pacing of our ceremony helped each moment ring true. Our sincere thanks,
Dave and Jonelle, Apple Valley, MN
---
Kate, It has been so much fun getting to know you these past few months. Thank you so much for being such a special part of our big day!
Melissa and Cody, Apple Valley, MN
---