I want couples to start or renew their lives together with joy, heart, enthusiasm and optimism, and with the good and ample blessings of families and friends.
It is an honor to be present with the love that two people have for each other, and to be asked to hold that love, protect it, and to witness, welcome and celebrate it. It is a joy to work with two people who love each other to help design and participate in a day together, based on their wishes, that can be a deeply meaningful peak life experience.
I've pursued lifetime interests in sociology, psychology, spirituality and emotional health. I'm a writer, poet, musician and national award-winning documentary filmmaker, with background in theater and personal growth work. I've worked with individuals and groups of all ages and with diverse backgrounds. I admit I'm a softie. I'm deeply in love with my wife, and two lovely and fierce adult daughters.
I hope you will experience a day you will remember with fondness and warmth for the rest of your lives. I want you to have a wedding or commitment ceremony, based on your wishes, that is beautiful and meaningful. And, that happens with ease, grace, tenderness of heart, enthusiasm and joy.
In addition, I want the young to be welcomed into the world with tender feeling and anticipation of their gifts, and with their major life milestones celebrated. And, I want the lives and legacies of those who have transitioned from this life to be acknowledged and celebrated. It's an honor to serve people with open hearts at moments of major life transition. I'm licensed as a wedding officiant in Minnesota, registered as a Universal Life Minister, and I'm involving myself in this work because of my own enthusiasm and the urging of family and friends

Reviews for Cris Anderson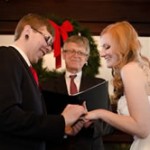 "We are so happy that we found Cris and that he officiated our January 6th wedding. We really knew nothing about planning a wedding ceremony, Cris walked us through the many options he has seen and gave us the space to make it our own. We could really tell he cared about us as a couple and wanted to make our day the best it could be. We had so many compliments about how personal our ceremony was and how warm and personable Cris was. If we remember anything from our wedding day, it would be how special, romantic, funny, and family oriented our ceremony was. Thank you! Everyone could tell how passionate you are about what you do."
Jessa and Tom of Saint Paul, MN
---
"When trying to plan for a simple, low-key, non-traditional wedding ceremony, I was very intrigued when I came across the MN Officiants web site. I must say we couldn't have been more pleased after meeting Cris… he was a perfect fit for our wedding ceremony. We couldn't have asked for a better day, and Cris certainly helped to make the day special."
Jay of Minneapolis, MN
---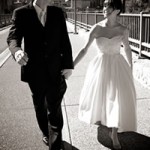 "Where do we begin? Cris is, by far, the most talented, genuine and professional officiant we could have ever imagined performing our wedding. From our first meeting with him at a little coffee shop in Minneapolis to the day of our wedding we had nothing but the greatest of confidence in Cris' talents. Our ceremony was simply perfect – it was personalized, warm, loving and humorous – exactly how we wanted it to be. We still receive compliments regarding the ceremony itself, three months later! We have been told by one person it was the most genuine wedding they had ever attended, another asked for Cris' contact information to officiate their wedding, and yet another told us they wished they would have known of him to do theirs years ago! We could never have imagined such a perfect fit for our wedding day, and are still so grateful to Cris for making it possible. Anyone who chooses him for their officiant will be forever thankful, as Cris will make your day amazing and unique!"
Bethany and Derek of Minneapolis, MN
---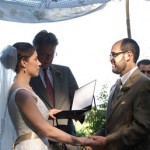 "You have a special talent. We appreciate your ability to create poignant and meaningful moments when we were all gathered together. We didn't expect the level of support and help you gave us, and we are so grateful. Your words during the ceremony, and the way you captured the meaning of the day, were so touching and appropriate. You were so respectful of our spiritual and religious backgrounds and those of our families and you really helped make everyone feel at ease. We fully endorse your working as an officiant with other couples."
Anne and Aaron of Rochester, NY
---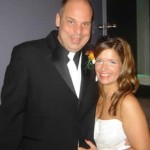 "On November 5th, 2011 – I married the love of my life. We wanted our ceremony to feel like "us" and wanted it to be a not-so-cookie-cutter event. Clearly, the person who would marry us needed to be someone we were comfortable with. Never in our wildest imagination did we think we'd find Cris Anderson. From our first email exchange, I instantly liked Cris. Meeting him in person? We had no doubt – he was the one who would share with us the most spectacularly special moment of our life. Cris is kind, gentle, articulate, very funny and full of experience and wisdom. He is creative, thoughtful, prompt, charming and trustworthy. Our ceremony was EXTRAORDINARY because of Cris. He let us choose our own general outline for the ceremony, but added some "secrets" just for us that were truly full of heart and so touching and amazing. We have received endless compliments about Cris following the ceremony. Truly, Cris is someone we've grown to love and will always feel blessed to know him."
Heather & Mike of Stillwater, MN
---
"We could not have made a better choice for our wedding officiant than Cris Anderson!! Cris never pressured us in any way and was totally committed to helping us make our wedding special. He provided a comprehensive set of options for the ceremony and encouraged us to choose those things we wanted in our wedding ceremony. Cris is very warm and personable, extremely professional, and understands the importance of allowing a couple to decide and help answer every question we had. It allowed us to be cool, calm, and collected as he assisted us through the planning process. On our wedding day, we found Cris to be flexible and adjust to minor changes due to our outdoor wedding. Everyone commented on what a nice ceremony he conducted and how friendly he was. Cris is sensitive and caring, takes his role seriously, is extremely knowledgeable, and was a great help. If you are looking for a great person to assist, help plan, and deliver a great experience, then we would highly recommend Cris."
Lynn Anne & David of Green Isle, MN
---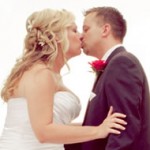 "Chris met us to go over everything. He is a down to earth guy! Big heart and made us feel like we have known him for years! Everyone at our wedding said he did a great job. He was there when he said he would, he helped out on plans and even gave his input on stuff that made our wedding that much more better! Thank you chris for making our day speical!"
Jayson and Megan of Minneapolis, MN
---
"We are so grateful that we found Cris to officiate our wedding! Being relatively new to the area and not having a close tie to a pastor we were nervous about choosing the right person for our wedding. We met with Cris in an informal, no pressure setting to see if there was the right connection. You could tell he was so passionate about the wedding experience for couples and instantly created a connection with us. The wedding e-book was such a great guide for planning and made us feel much more confident in what was the most important piece of our wedding day. Our wedding day was flawless, and the best part was the personal stories/touches that Cris added to the ceremony (some unexpected!). We had many guests say that that made it so personal and more meaningful compared to other weddings they had been to, quite the compliment! Thank you so much Cris – you really helped to make our wedding the most memorable day of our lives!"
Julie and Ryan of Eden Prairie, MN
---
"Our ceremony was very beautiful, heartfelt and magical. We can't say enough about Cris. He has a big heart and listens deeply. He understands the spiritual significance of two people getting married. He provided excellent guidance during the process of developing our ceremony. Having worked with many other couples, he had a wealth of experience which served as a foundation for what he offered us."
Carla and Barry
---
"We got married on 08/03/2011 in the backyard of our home with our family and friends present. Chris Anderson was our officiant and we can't seem to find words to express how perfect he was in performing the ceremony exactly the way we both wanted, how he emphasized how special we were to each other and how really joyful everything he said was. We feel really blessed we had such an experienced, cheerful and loving officiant to marry us. We'll never forget the ceremony and how we were both holding back tears of happiness throughout the whole thing. Thank you Chris, we are very happy we chose you and I know the next lucky couples who choose you will be extremely happy and will have an amazing experience like we did."
Luis & Leah of Minneapolis, MN
---
"Cris did a fantastic job officiating our wedding. His personality and demeanor make him a natural as an officiant. We clicked right away. He understood what our relationship meant to us and what we wanted to convey in our ceremony. The end result was a very personal, heartwarming and spiritual service that made our day just that much more special. An added plus, he and his friend Ruth played their fiddles and led us to the ceremony with a Swedish Bridal March. It was great!!"
Tom and Mary of Bayport, MN
---
"Cris Anderson was the officiant at our wedding a couple weeks ago and we couldn't have asked for a greater person! While putting our ceremony together, Cris was very flexible and incredibly helpful. His warm personality made him very easy to work with and his suggestions made our ceremony more meaningful. Plus he plays the fiddle! Needless to say, the ceremony went swimmingly – it was intimate and alot of fun. Thanks, Cris!"
Emily and Dan
---
"We truly could not have asked for a better officiant. We contemplated having a pastor do our ceremony, but I'm so glad we decided to go with Cris. He made our ceremony very personal and since the wedding, we have gotten tons of compliments on how touching and meaningful our ceremony was and how great Cris was. You can tell he loves what he does and he's great at it. He will certainly be getting referrals from us in the future, and our day was perfect thanks to Cris."
Becky of Saint Paul, MN
---
"Cris Anderson was the perfect match for our wedding ceremony! He was so personable and really wanted to get to know you and your story. We met with him a couple times before our big day which was great because by the time the wedding came around he felt like a friend rather than just a guy that is marrying us! We couldn't have been happier with Cris! He made our day extra special! :)"
Ashley
---