Congratulations on your love, commitment, and decision to marry!
As a non-denominational interfaith minister, I honor all religions and beliefs with an open and welcoming spirituality. Your ceremony can be exactly as you envision it. I will assist you in creating a ceremony that's simple or sublime, lighthearted and casual, or traditional and reverent.
I understand some couples want help with suggested readings and vows, while other couples wish to write their own vows. Either way, I can offer as much or as little assistance as you desire, resulting in a ceremony that's personal, beautiful and memorable. What's important is that your ceremony reflects the unique spirit of your relationship, and the declaration of your Love.
Please feel free to contact me if you'd like more information, or to see if I am the right person to officiate your ceremony. I look forward to hearing from you and would be honored to be a part of your special day.

"We are spiritual but not religious, and although we didn't want a church wedding, we wanted a ceremony that would reflect our spirituality. Jill Englund took our ideas and wove them together to create a beautiful, unique ceremony that reflected who we are and what we believe. She has a calm but powerful presence that makes people want to listen to her. Our guests all asked where she preaches because they want to be in her church. Did we mention she is also a rock and roll singer? Jill is very cool, and we highly recommend her as a wedding officiant."
Jennifer Anderson of Minneapolis, MN
---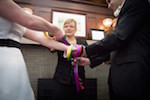 "From start to finish Jill handled everything for our wedding ceremony with humor, heart, and intelligence. Even working on short deadlines and working with a very busy bride and groom, Jill was fabulous. She worked diligently to get to know my groom and I so that she could piece together a ceremony that met the high expectations of our family and friends, as well as us. Jill was great at letting us know things that had worked well and not so well in ceremonies she had presided over before. That kind of experience is invaluable! Our end product was a thoughtful and personal ceremony that impressed everyone who attended. She brought our personalities to life through the ceremony's various components by using her amazing story telling ability, wit, and heart. I can honestly say that before the wedding, as far as the ceremony went, my groom and I barely knew what we wanted at all. Looking back now, we couldn't and wouldn't want to imagine it any other way. Thank you Jill!
-Barb & Tom Pittsburgh, PA
---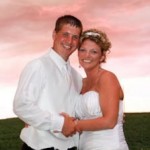 "Jill performed our outside ceremony July 17th in rural Starbuck for 300 guests. The moment I met with her, my worries instantly faded and I knew she would make our wedding day wonderful. She made it such a memorable occasion and did a fabulous job before, during, and after the ceremony. There were so many of our guests that commented on how great of a job she did as well. We are both so happy with our choice we made to have Jill perform our ceremony. Thank you to Jill and MN Officiants."
Shawna & Darrin of Benson, MN
---
Jill Englund was our officiant and let me tell you that, because of her, the ceremony was exactly what we wanted. She perfectly reflected our personalities during the service and we literally couldn't have asked for a better officiant!
You can't imagine how many people came up to us to say that it was the best ceremony they've ever been to and that that was the first ceremony they'd been to where they learned even more about the couple than they knew beforehand. Usually the guests have a good time during the reception, but at this wedding they also had a good time during the ceremony, because of Jill. She made everyone laugh and cry…just what we wanted 😉
She was so flexible, friendly and easy to work with!! We would recommend her to anyone!
Thanks Jill! You're the best!
Kristin & Carlos St. Louis Park
---
My husband, Bill, and I had Jill Englund officiate our wedding and we could not have been more pleased! We live in Indiana and were having a difficult time finding an officiant we felt comfortable working with from afar. I emailed Minnesota Officiants looking to gather some information and within an hour, I had an email from Jill stating she was available on our date. We were able to connect over the phone several days later and instantly clicked! She was knowledgeable, kind and jovial and was the best resource Bill and I could have asked for. She told us to reach out to her whenever we had a question and when we did so, we always received a prompt response. Planning a wedding is a stressful time, especially when planning a wedding from several states away however due to Jill and her expertise, we never worried once about how our ceremony would turn out. She had fantastic suggestions and gave us the guidance needed to help us mold a perfect ceremony for our wedding. Not only did Bill and I receive multiple compliments on Jill and her presentation of the ceremony, but both Bill's and my parents received numerous commendations as well. She made our special day an extraordinary day and we cannot thank her enough. I wholeheartedly recommend Jill to any couple looking for an Officiant whether you are local or several time zones away!
Melanie & Bill of Indianapolis, IN
---
"Jill was the best! This was a second marriage for both my fiancé and me. We took the rite seriously, but for the ceremony, we wanted a lighter tone. Jill was willing to provide us with as much (or as little) guidance we needed putting together our ceremony. After a couple of phone calls and a few e-mails, and recognizing our song selections, Jill understood us completely as a couple. Jill provided us with a final draft, which we shared with co-workers, some of whom got tears in their eyes while reading the text and said it was "so us." We did not have a rehearsal since it was a small ceremony, but everything went delightfully. With a beautiful blend of formal text, the vows we provided, and witty adlibbed remarks, Jill presented the perfect
ceremony. We couldn't be more pleased with how wonderful our wedding was. "
Lynnette & Michael of Henderson, MN
---
"We did a lot of research to choose our officiant and ended up choosing Jill Englund from Minnesota Officiants to perform our wedding ceremony. We could not have been happier with our decision! Jill was just amazing!!! From day one she was extremely responsive and helpful.
After our initial meeting we walked away knowing that Jill has a special gift for working with people. She makes you feel so comfortable and at ease, like we had known her for years!!
She arrived early for our ceremony and immediately was helping resolve our last minute hiccup of forgetting our music. When I was told she was helping pick something new out I knew I could totally relax as I completely trusted her judgment. She kept things moving on time and had such a strong calming presence.
Our ceremony was wonderful and very personable thanks to Jill! She patiently encouraged and worked with us to make sure our ceremony was special for us and our guests. She had our guests both laughing and tearful, with everyone commenting on what a great job she did.
We would highly recommend Jill, she is honestly one of the best in her field!!"
Amy & Charles, Burnsville, MN
---
We used Jill Englund as our officiant for our wedding service. Jill was outstanding from the start! From the first telephone conversation we shared with Jill, we knew she would be great. She was professional and responsive to all of our questions and concerns. We had to change both our ceremony venue and time, and she was very flexible and supportive in working with our changes.
Jill does an excellent job offering several options for your ceremony, to make it both personal and meaningful. Her officiating at the ceremony was second to none. She is sincere and does a wonderful job telling your own personal love story. Our family and friends were both laughing and crying throughout the ceremony. We had several guests tell us that it was the best ceremony they had ever attended, and we owe that all to Jill!
We would enthusiastically recommend Jill to all of our friends and family! You will not be disappointed.
Casie & Brad- Minnetonka
---
"Jill Englund was a fantastic officiant! She was very quick to respond to my email inquiries. We had a great time meeting with her to plan the ceremony – she is very helpful, kind and down to earth. Creating the ceremony with her help was very easy. The ceremony turned out to be very personal and exactly what we wanted – my mom has thanked me daily for finding such a wonderful officiant. I would recommend her to anyone who wants a truly special wedding ceremony!"
Tom & Denise of Blaine, MN
---
When our officiant backed out at the last minute, MN Officiants came through to help us find an available minister, and they did it very quickly! We were extremely lucky that Jill Englund was available because she was fantastic! I cannot recommend her enough! She was prompt in contacting us and was very helpful in tweaking our ceremony to make it even more special. She arrived in plenty of time and helped us get it together those last moments before the ceremony when you are super frazzled and nervous. We were comfortable with her from the start, and with her help our ceremony went smoothly. Everyone was raving afterward that it was the best ceremony they had been to and we couldn't agree more! Her "4 Questions" made it very personalized and special. If you are in need of an officiant, look no further because Jill is your gal!!
Carrie & Scott of New Hope, MN
---
Jill was everything we could have asked for and more in an officiant. She was friendly, understanding, organized, quick to respond to e-mails, and overall a very kind, open-minded, and open-hearted person. We had a blast joking around with her at the rehearsal, and when I got frustrated with my bridal party and had a mini-meltdown, she just kept right on trucking through what needed to get done without getting dragged into my personal drama. She always knew what needed to be done and was always honest and to the point. Jill had great suggestions for details we hadn't even thought about, and clearly has a lot of experience officiating and mitigating sudden problems. She was a great public speaker and has a very calming voice when she officiates, so it was just an overall great experience. I can't imagine having chosen anyone but Jill, especially for a diverse ceremony like ours where people all have different backgrounds, beliefs, and relationships to one another. If we ever do a re-commitment ceremony, I'm calling Jill again. Seriously.
Brittany & Ross of Minneapolis, MN
---
We couldn't have been happier with Jill! Upon the first meeting, we knew she was just the type of officiant we were looking for: personable, flexible, not at all pushy, genuine, and–most importantly–respectful of our needs and wishes for our ceremony. She was open to anything and everything that we wanted to do, and was extremely quick in providing feedback to our ideas. Jill's professionalism and friendliness confirmed to us that we were putting our ceremony in good hands, and she delivered as promised. Our ceremony went perfectly, and we have Jill to thank for it!
Tyrel & Lauren of Minneapolis, MN
---
Jill truly made our ceremony perfect & special. We had been prepared to meet with many people to find an Officiant, but after we met Jill at a coffee shop to get to know her we immediately knew we did not need to look any further. She walked us through our options, guided us through our MANY questions and was very flexible and responsive. We had to change our ceremony time due to an unexpected event at our venue and she was able to accommodate. Not only was she quick to respond to questions, she was also proactive in ensuring we had everything ready in the weeks leading up to the big day (I would have forgotten to bring the marriage license if she hadn't reminded me!). She was also so amazing in helping us to pull together OUR perfect ceremony in terms of content & order, including some personal "love story" peices that we asked her to weave in. She provided suggestions when we needed them, guidance in planning for keeping with amount of time we had wanted, and she is open to whatever beliefs/religion/rituals, etc that the couple would like incorporated. The execution on the day of was fantastic! Jill was very calm in guiding us through each step prior to & during the ceremony so that we felt at ease. Her calm energy, paired with how engaging she was in her speaking, left our guests smiling as much as we were! If you are looking for someone who will help you create & customize the ceremony that is both perfect for you and not dry for your guests, Jill is the one to go with!
Kate & Josh, Minneapolis
---