Your Complete Wedding Ceremony e-Book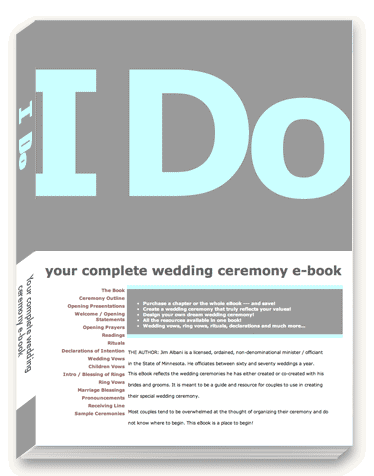 Jim Albani is the author.
This eBook reflects the wedding ceremonies he has either created or co-created with his brides and grooms. It is meant to be a guide and resource for couples to use in creating their special wedding ceremony.
Most couples tend to be overwhelmed at the thought of organizing their ceremony and do not know where to begin.This eBook is a place to begin!
Chapters of the eBook are:
Wedding Ceremony Outline & Checklist
Opening Presentation
Welcome & Opening Statements
Opening Prayers
Wedding Ceremony Readings
Wedding Rituals
Declarations of Intention
Wedding Vows
Children's Vows
Introduction and/or Blessing of the Rings
Wedding Ring Vows
Marriage Blessings
Marriage Pronouncements
Receiving Line
Sample Ceremonies
This wonderful planning guide is included in all wedding packages.